Tag: monday night brewing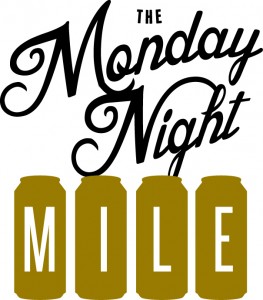 If you like drinking and running, our friends at Monday Night Brewing have got a great new event for you! It's called the Monday Night Mile. It's possibly the best race ever.
4 beers. 1 mile. Competitors drink one 12oz beer before each ¼ mile. Each runner attempts to consume 4 beers. And to make it more worthwhile, there is a charity component to this event.
Your family and friends will place CharityBets, essentially "betting" their donation on how fast you can run a mile while drinking the 4 beers. Each participant is required to raise a minimum of $100 to guarantee entry in the Monday Night Mile.
Included in your registration is free beer tasting at Monday Night Brewery, a Commemorative pint glass, a T-shirt and that unmistakable feeling of having done something good for someone else in your life 🙂
We have a special promo code for Beer Carnival attendees to use to get 25% off their registration fee. Enters the promo code BestMondayEver25 on Step #2 of registration. This promo code runs from April 12th through May 1st.