Games
Beer Carnival 2015 is Atlanta's Tastiest Place to Play and this year won't disappoint! We have plenty of awesome games lined up and unlimited game play is included in the price of admission.
Prizes will be awarded while supplies last so step right up and test your skill!
Grab a beer and Wac-A-Mole, join our Human Foosball Game, Ring-A-Bottle, square off in the Duck Races or test your skill on Jacob's Ladder. Click here to see a full list of games!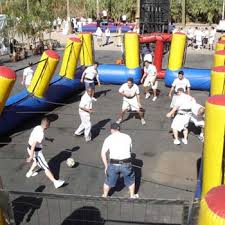 After a one year hiatus, the Shock Top Ice Slide will make a return at this year's Winter Beer Carnival! There's no additional charge for any games or rides. It is included in the price of admission. The current weather forecast predicts a high of 60 next week for beer carnival, which is exactly 600 degrees warmer than last year.
So, even though we've got heated tents this year, we probably won't need them! Get your tickets today!!